Speaking at the PASS Data Community Summit
My favorite thing that happened this year was that I was a speaker at the PASS Data Community Summit in November. I presented an online live stream at the world's largest SQL Server conference, and I did it while in-person at the conference in Seattle! Speaking at the Summit has been a bucket list type item for me for many years.
There is a sense of deep humility in being chosen to present at this conference. The SQL Server community is vast and full of really smart people. Because of this, being chosen to speak is a big honor. I had put in a lot of effort over the last year or so trying to give back to the community that has helped me so much over the years. The Summit has a wide range of topics and technical levels. There is something for everyone who works with SQL Server.
Presenting Online at PASS Data Community Summit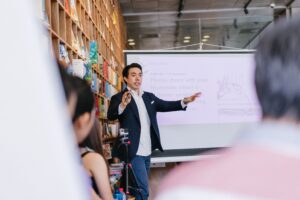 The speaking experience itself was interesting because I had to go back to my hotel to do it. Internet at the event wasn't always stable. I presume that's because of so many people being in one location making it hard to have good wifi. Back at the hotel, I had to rearrange the room a bit, and if I'd planned it out more, I likely might have made even more changes!
Sitting at the hotel room desk in its normal location, I would have been live-streaming with the bed behind me. That seemed awkward so I pulled the desk away from the wall and moved the chair behind it so the camera would point to a wall behind me. Once that was done, there was the problem of lighting. Where I was positioned, I had the hotel window on my right. The lights in the room weren't very bright, but I did the best I could. My session began at 4 pm PST and ended around 5 pm. The room gradually became darker as I gave my presentation so that at the end, the only real light was from the ring light that was part of the camera I brought with me.
During the presentation I had a strange thing happen. I got a side that indicated I was going to do a demo. When I hit the Esc key on my laptop keyboard, the PowerPoint didn't escape out back to my desktop. I tried it several more times. Finally, I just told the audience I was streaming to that I'd have to explain the demo, which I went on to do.
I was thankful when the Zoom moderator messaged me to try ALT TAB to see the running programs so I could choose my SQL Server Management Studio app I had running with my demo code already loaded. When I got to the next demo, ALT TAB worked and I did that demo and went back to do the previous demo as well.
SQL Family at PASS Data Community Summit
The best part of the Summit is the SQL family. You don't need to be "SQL Famous." Those folks will tell you that they started with zero knowledge of SQL Server, just like everyone else. People there are genuinely interested in the success of the people around them. They want to hear your questions and learn about your experiences with the product.
There is a Community Zone area at both the in-person conference and online. This is a place for people to hang out, make introductions and chat with each other. Several people I knew from Twitter and LinkedIn introduced me to others at the Community Zone. I met a lot of great people at the Summit and I had dinner with someone new almost every night.
Get Involved in the SQL Server Community
Speaking at the Summit was amazing for me, but there are many other opportunities throughout the year to give back. Here's a list to get you started.
There are quite a few social media outlets and forums for people who want to help other people stuck with SQL Server issues and questions. There are forums on Reddit, SQLServerCentral, StackOverflow and probably a bunch of other places too. Go there to ask questions, but you can go there to try to help answer questions too
There are ways to micro-blog on platforms like LinkedIn, Twitter, Mastodon, or even something like TypeShare. Micro-blogging is a great way to share knowledge and give back to the community.
If you're feeling a bit more ambitious, you can spin up your own website and blog from there. Share what you've learned. You don't have to be an "expert" to help others. If you've solved some technical problems with SQL Server, then you have something to share that can help someone else.
There are in-person and virtual SQL Server Meetups. Find one and start attending. You will learn and you will build connections with others.
There are SQLSaturdays. These are great one-day conferences filled with great sessions and, again, ways for you to connect with other SQL Server professionals.
There are other conferences like GroupBy, EightKB, SQLBits, DevIntersection. DataGrillen, and probably a bunch I don't know about yet. Look these up and participate when you can.
Next Steps to Take
Find a SQL Server Meetup, join the group and start attending meetings.

If you have questions or comments, leave me a comment on this post, or message me on

LinkedIn

or

Twitter